Nancy Wilson of Heart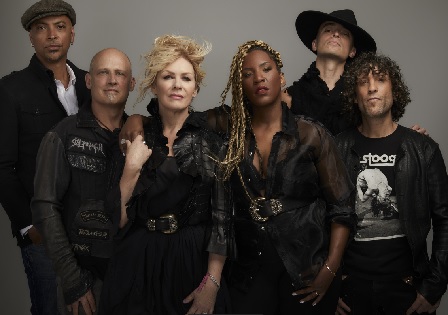 Saturday, August 11, 2018 | 8PM

Fronted by former Prince collaborator Liv Warfield and Nancy Wilson, co-founder of Heart, ROADCASE ROYALE has a rich background in rock and R&B. Warfield, Wilson, and their bandmates bring their decades of experience from the upper echelon of the music industry to ROADCASE ROYALE, along with a renewed sense of direction and drive. Joining Wilson and Warfield are Warfield's lead guitarist Ryan Waters and Heart veterans Dan Rothchild (bass), Ben Smith (Drums) and Chris Joyner (Keys). Each of these members shines in ROADCASE ROYALE, with their various sensibilities creating the group's sensitive, passionate, and driving rock and R&B sound.

Liv Warfield, a former track star at Notre Dame, was initially noticed by Prince after the release of her debut album "Embrace Me" and a YouTube video of her singing "Gimme Shelter." She worked closely with Prince as a member of New Power Generation and he was the executive producer of her second solo al bum.

Nancy Wilson, a guitar virtuoso since the age of 10, is celebrated as one of the seminal musicians in rock history, as a leader of the Rock And Roll Hall of Fame inducted Heart.

Ryan Waters has worked as lead guitarist and musical director for Liv Warfield's solo work since 2012, and previously worked with artists such as Sade, Cee Lo Green, and India Arie.

Ben Smith, Dan Rothchild, and Chris Joyner carry with them an impressive musical pedigree–Rothchild is the son of Doors producer Paul Rothchild and has worked with Stevie
Nicks, Fiona Appleand Beck, while Joyner has worked with numerous musicians
including Ray LaMontagne, Jason Mraz and Sheryl Crow. Smith has performed with Mike Inez and Mike McCready and has been working with Heart since the 1990s.